Plano Chiropractor Dr. Eagle Welcomes You
At Eagle Chiropractic Wellness Center, We Value Your Time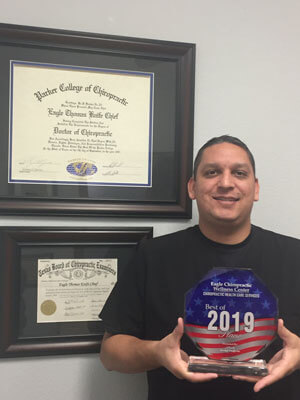 Enjoy our state of the art facility in which you will discover the true wellness lifestyle. We will show you the natural way to better health. We are convinced that after one visit you will see why chiropractic is the safe and effective solution to recovered health.
"To Discover Your Health Is To Recover Your Health"

Dr. Eagle
Our Philosophy
At Eagle Chiropractic Wellness Center, we believe each of us possesses an innate intelligence. This means that your body was born with the capacity to heal itself. Our role is to help remove the cause of interference that's causing your pain, allowing your body to heal itself and function at its greatest potential.
Your nervous system is an amazing protector for your body when brought to its highest function through the help of chiropractic care.
We are thrilled to offer many techniques for chiropractic care, which range from pediatrics to geriatrics. Please take a moment to enjoy our website and get to know our incredible team of health professionals. If you have any questions, please click the Contact Us tab button above to reach one of our staff.
You're Our First Priority
Dr Eagle T Knife Chief wants to take the time to listen to your goals, thoughts, and concerns, and help you in any way possible.
Our care is gentle, and your wishes are always our first priority. Dr. Eagle will determine what's happening in your body and give you information to learn about your condition. He'll make recommendations to you on how he can help, explain exactly what you can expect and then, the decision of continuing care will always be up to you.
Within this site, you may print off all of your new patient forms and fill them out before you enter the office. The doctor can begin with a thorough examination and assess your areas of concern, as well as carefully consider your health history. Only after this initial examination will Dr Eagle offer a recommended course of treatment. Based on the analysis of your initial examination, your treatment could consist of chiropractic adjustments, therapies, and nutritional recommendations.

Whether you're in pain or just seeking a proactive approach to your health, we're ready to help you. Call your Plano chiropractor at (972) 265-8103 today!