Eagle Chiropractic Wellness Center Receives 2020 'Best of Plano' Award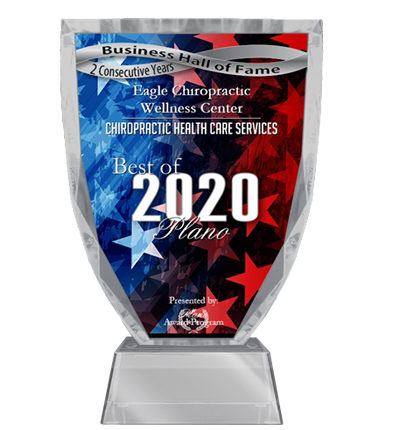 Plano, TX December 31, 2020 – Dr. Eagle Thomas Knife Chief, owner and president of Eagle Chiropractic Wellness Center has been selected for his consecutive, second year, back-to-back recipient of the 2020 Best of Plano Award in the Chiropractic Health Care Services category by the prestigious Plano Award Program!
Dr. Eagle T. Knife Chief, DC is from Pawnee, OK and an enrolled citizen of the Pawnee Nation from his late father, Tom E. Knife Chief, and has Muscogee Creek heritage from his mother, Judy F. Knife Chief, who currently resides in Pawnee, Oklahoma.
Dr. Eagle received his Doctorate degree from Parker University in Dallas, TX, while obtaining a Bachelor's degree in Human Anatomy, a Bachelor's degree in Health & Wellness and a minor in Chemistry.
Each year, the Plano Award Program identifies companies that we believe have achieved exceptional business success in their local community and marketing category. These are local companies that enhance the positive image of small business through service to their customers and our community. These exceptional companies help make the Plano area a great place to live, work and play. Dr. Eagle T. Knife Chief has demonstrated leadership within his community and has focused his attention on setting the standard on elite sports athletes.
Various sources of information were gathered and analyzed to choose the winners in each category. The 2020 Plano Award Program focuses on quality, not quantity. Winners are determined based on the information gathered both internally by Plano Award Program and data provided by third parties.
---
Chiropractor Plano | Eagle Chiropractic Wellness Center