Plano's Top Chiropractor Gets Results
You Can Get Fast, Effective Pain Relief – Today!
At Eagle Chiropractic Wellness Center our multifaceted approach to health works to quickly give each individual results – whether you're here for pain relief, rehabilitation, maintenance, or addressing long-term health goals and wellness.
Our friendly team will create a customized treatment plan to relieve your pain and get you on the path to a pain-free life.
We believe everyone should have access to quality chiropractic care. That's why we are proud to offer same-day appointments, and a free consultation for our new patients.
Don't wait to feel better! Book your FREE CONSULTATION today –
Call us at (972) 265-8103 now!
---
Discover Relief From Pain With Expert Chiropractic Care
Are your suffering from any of the following conditions?
Back pain
Carpal tunnel syndrome
Headaches & Migraines
Neck pain
Vertigo and Balance
Sciatica
Scoliosis
Slipped discs
Stress
Whiplash
Auto accidents
Workplace injuries
At Eagle Chiropractic Wellness Center, we use a variety of use a variety of techniques as appropriate for you. These methods include manual chiropractic, lumbar decompression & massage therapy.
Are you ready to learn more about what we can do to improve your health?
Call (972) 265-8103 now to schedule your free consultation!
REQUEST AN APPOINTMENT ONLINE »

---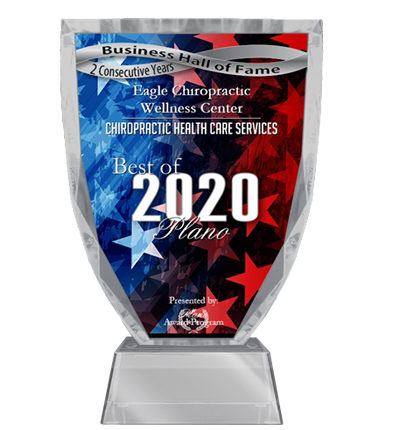 Voted 2020 Best of Plano Award in Chiropractic Health Care Services for the 2nd year in a row!
Dr. Eagle has helped me tremendously. He really cares and has healing hands, and great credentials, I am living proof he knows how to help and I feel 100% better under his care.

After my first visit, my knowledge about chiropractic is different. Now I feel very much better than before. I'm very hopeful to be more healthy. Thank you!

I had a very positive experience. Dr. Eagle explained everything thoroughly and made me feel very comfortable, as this was my first visit to a chiropractor.

Thank you for being open and honest with me and walking me through a step that you were doing today since this was my 1st visit. I was afraid of you at first. I have never been to a chiropractor. I appreciate all of your help today and I think that now I can move forward with the service that you provided and hopefully this will help me in my situation that I'm dealing with.

It was an excellent experience. They are very professional and nice! I strongly recommend Dr. Eagle!

Dr. Eagle is knowledgeable, personable, attentive, and very skilled professional whose adjustments are highly effective. My mom and I got lower back adjustments by Dr. Eagle and our pain was instantly gone after just one visit. Unlike many other chiropractors I have seen in the past whose main goal seems to be to put you on a long term adjustment plan with little to no improvement at every visit, Dr. Eagle makes sure that you leave his chiropractor care office with no pain the first time you go. My mom and I would highly recommend Dr. Eagle as one of the best chiropractors in the field.

Just wanted to say how great you guys have treated me and my family. We love being treated by your office and really feel at home with your staff. I wish more doctors had offices like yours. Keep up the amazing work!

My visit with Dr. Eagle was very comforting, especially being a first timer. He was very thorough during evaluation and extremely detailed in his presentation of expectations suited for me.

I really like that Dr.Eagle takes the time to explain what he's doing and why he's doing it. Understanding why you have the pain that you have is just nice to know and he is very personable.

Great first time experience with a chiropractor and I already feel way better!

They were very nice and friendly. I would refer others to this practice!

We visited four other chiropractors before coming to Dr. Eagle, and he has become our family's chiropractor of choice for over three years. His bed side manner is excellent and knows several types of techniques. I suffered a back injury in Fall 2017. Dr. Eagle and his staff stood out above my other medical practitioners, making sure my back was healing properly. I am doing great now and am nothing but thankful for the care I have received. Thank you, Dr. Eagle!

Dr. Eagle has helped me tremendously. He really cares and has healing hands, and great credentials, I am living proof he knows how to help and I feel 100% better under his care.

Dr Eagle takes the time to explain everything to you, answer any question or concern you may have.

Dr. Eagle spent lots of time with me during our visit and it made me feel he was interested in helping my problem.

I appreciate the way Dr. Eagle explained everything he was going to do before doing it. That made me feel at ease.

Dr. Knife Chief took the time to explain and actually listen to me! I won't use another chiropractor except for him! Wonderful experience!

Since having kids, I've had a lot of back and neck issues. It seems every time I move or try to keep up with my kids, the pain starts flaring up again. I was taking pain relief medication constantly and had had enough. I called the doctor and they really went above and beyond to help me out. Ever since going to this office I have felt better and have seen amazing results with chiropractic care. Thank you for all that you do!

This has been the most rewarding, and informative visit I've had with a chiropractor. The staff is extremely friendly and Dr. Eagle does a great job explaining my treatment program.

I have been in pain for some time. I have arthritis in my hands. One treatment and three hours later my pain level was one third what it had been. Thank you, Dr. Eagle.

Dr. Eagle is wonderful. I was nervous as this was my first time to visit the chiropractor. He took the time to listen to what was bothering me and talked me through his approach at every turn so I knew what to expect and what we were trying to achieve with each movement. Mary in the front office seems to be the glue that holds the office together and is wonderful as well. Excited to start the journey to recovery with Dr. Eagle and his team!

Thank you to Dr. Eagle and staff.

This office did an amazing job helping me with my low back problems! I've tried so many things to get better and this office gave me answers I'd been looking for. Thanks for all your help!

Dr. Eagle, has provided me instant relief just with my first visit. He is personable, has great bedside manner, and makes you feel at ease. I appreciate his passion to insure I am getting the best treatment for my needs. I will/would recommend his services. Thank you, Dr. Eagle!

Dr. Eagle is the best – so helpful and made me feel comfortable for my first time coming to a chiropractor!
---
Request Your Free Consultation Now!
Whether you're in pain or just seeking a proactive approach to your health, we're ready to help you.